An Unexpected Event is first episode, of both the first season and the series, of Winx Club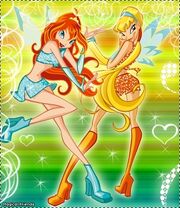 Bloom finds a new friend Stella, and together they will make lots of discoveries. Mysteryous creatures threaten Stella, the fairy of the sun and moon, she knows how to defend herself, but she should be thankful for Bloom's help. Could she be a fairy too? We'll find out a Alfea, school for fairies, in the next episode.
Major events
Edit
Bloom meets Stella and Knut.
Bloom's powers are awakened.
Bloom decides to go to Alfea.
Bloom meets the Specialists, Riven, Sky (under the alias 'Brandon'), Timmy and Brandon (under the alias 'Prince Sky').
Characters
Edit
Stella is the first of the Winx, besides Bloom, who visited Earth.
The plot of this episode is featured in the first Nickelodeon special, although shortened.
Stella
A Fairy in Gardenia
Edit
When Stella is telling Bloom about the magical dimension and when Bloom first visits Magix, her pant leg frequently changes from ripped to not ripped.
When Bloom, Stella and Bloom's parents are walking towards Alfea, they aren't carrying any luggage, but they arrived through the portal with luggage.
When Stella was being held down by the ghouls, she had no wings.